Discover our quality, eye-catching display fixtures for supermarkets, convenience stores, specialty wine and retail environments. Our extensive product line, designed by our in-house engineers, is built to be both attractive and durable. We strive to offer high-quality products, superior customer service, short lead times and on-time delivery to every customer. We're flexible in offering custom designs and manufacturing for projects with unique and/or specific requirements.
Family owned and operated since 1991.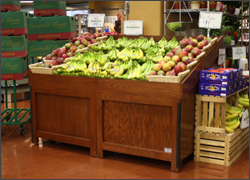 Featured Product of the Month: Slant Top Orchard Bins
Looking for a fixture that elevates product through increased sales? This one-of-a-kind bin is similar to a Eurotable but is outfitted to present like an Orchard Bin. This modular and flexible solution can be used against a fixed wall or combined back-to-back like an island. Contact us today for your free estimate!